Have you been looking for a way to record your Skype conversations? Do you know that several tech developers have applications that you can plug in your Windows PC and achieve a recorded talk session? Now you know.  Skype call recorder for Windows can give you a stunning and high-quality HD recordings. These Softwares gives you the freedom to record all your Skype video sessions, interviews, and podcasts. Some have the ability to record as you see them, split-screen and unique side-by-side.  Skype is an internet phone downloaded and installed in computers. It facilitates free communication around the world. Most importantly, Skype is an important tool among podcasters, for Interviews with guests and chats with co-hosts. Listed below are some of the top Skype recording software's we have in the market:
TalkHelper is a new Skype software with excellent features to ease and ensure efficient services on Skype. This Skype recorder is modern giving you every good reason to install it to your personal computer. With TalkHelper Call Recorder for Skype, you can record your Skype conversation in both audio or video and store them for future reference. If you have been looking for an application with such features, TalkHelper is the right application in the market you should consider. This software will not only record your calls, but also ensure quality results.  The best thing about TalkHelper Call Recorder is that it can capture both your voice and video calls then save them to the computer without complications. It is easy to use software and all you need is to follow the given instructions.
TalkHelper application lists all your Skype calls and messages displaying the exact details such as time duration. When launching Skype you might be notified about the plugin and ask you to allow it to launch the application. When the two programs are running, within a bling of eye you will be able to start recording Skype calls comfortably with this surprising app.  If you want to taste whether the whole system is working, you can simply make a call to your friend and record. TalkHelper also gives you an option where you can make automatic call recording default. It means immediately after your commence every single call, the recording will occur without requesting for permission. With TalkHelper, you can stop and pause your recording anytime you want. It is also amazing that you can chop away some recording segments that you may feel is not pleasing.
Advantages of using TalkHelper Call Recorder
TalkHelper Call Recorder is one among the best Skype Software with excellent features. The app is modern and the right one to install on your computer. The following are advantages of using the app:
Every time you make a Skype call, recording button is always activated, and all you need is to press the button if you want to record the conversation. With TalkHelper Call Recorder, you can choose to focus on audio if you are not interested with Video part.
After finishing recording, you can replay with other media players. The players may include your mobile phone, which I think is a new experience to all window users.
The other excellent and incredible feature is the app which you can add memos for each recording. It is helpful more so for the commercial users if you want to record instructions, podcasts or interviews.
TalkHelper is available on their official website without restrictions to all Windows user. Downloading and installation is fast and in a couple of minutes, you will be able to enjoy the results.
The app is virus-free to ensure your device is safe without any threats.
TalkHelper Call Recorder can be used as a call archive. This means that the app can list all the files in the dedicated tab and filter them according to the date of modification.
With TalkHelper Call Recorder, it is possible to specify your favorite file location, where you feel is easy to access. Moreover, video and voice calls are always stored separately from the notes.
Disadvantages
It has a large memory file
No warning sound
This software is designed well to assist all windows users to get a high quality recording. Pamela for Skype is free to download for windows and after installing it runs alongside Skype and for the Pamela features to work, Skype should be running. With Pamela for Skype, you will be able to enjoy the following features:
Skype Call Recording
Skype Chat Recording
Skype Video Recording
Disadvantages
The premium version is expensive
Makes your computer hung
Not compatible with all Windows
Answering Machine: Regarding recording, Pamela works nicely in capturing conversations exactly as they are on Skype. When it comes to the price, you have every reason to install Pamela Software. This Software is offered in four different editions like Basic, Call Recorder, Professional, and Business. With Basic is offered free although recordings are limited to 15 minutes and you cannot record video together with an audio at the same time.
Call Recorder is also the sane as Basic, albeit minus the fifteen minutes limitations. On the side of Professional, it offers the blogging platform as well as voicemail and contact management. When it comes to Business edition, things are kind of interesting and it involves integration into Microsoft Outlook and Priority technical assistance from the Pamela Staff. Pamela for Skype is nice for Skype user on Windows. This software is great for recording with neat extras like contacts management; call scheduling and rich text mood feed editor.
Mp3 Skype Recorder is almost like Pamela and this software allows you to record skype calls of high quality. It has interesting features for a different experience to all window users. These features include;
Advantages
It is free with no limits attached
It enables automatic or manual recording capabilities
Disadvantages
Cannot record long conversations
The free version cannot do much
Mp3 Skype Recorder is only made for Windows users with an aim of professional and excellent recordings. All the recordings are store in convenient MP3, OGG, WMA or WAV format. This software is responsive and integrates well with Skype and I think regarding design and usability is better than Pamela.
Have you been anxious looking for the best tool to record your Skype Call? You can now have a smile on your face since Amolto Call Recorder is the best Software for recording all of your Skype conversations. This software works well together with Skype or other VOIP applications to ensure high-quality video recording and audio format. Amolto Call Recorder is surprising and has easy to user interface, and it begins to record automatic when the Skype call starts. On the other hand, as many users usually use Skype for business you can now achieve your goal. Amolto Call Recorder supports all types of Skype business audio and video communications. It is easy to install Amolto Call Recorder for Skype and all required from your system is, 1.2 GHz CPU, a RAM of 1 GB, 100 MB HDD space, and a fast internet connection. The software has some good features, which include;
Advantages
Recording high-quality Video in HD
A good designed interface
Disadvantages
Not compatible with all OS's
The premium version is for sale
Cannot record long conversations

This software is the first in the world, with free Skype Video Call Recorder to the Windows users without limitations. It is a nice program, which records audio and video of all sides of the both conversation. Dvdvideosoft free Skype Recorder has exclusive advantages and features that will give the best experience for Skype calling. These features include:
High-quality video and audio recording
Low CPU requirements
There are no extra libraries needed to use the program
You can pause while recording your call
Disadvantages
At times it fails to launch
Burled recordings at the end
Comes with boring Ads
No editing capability
It is exciting to use the software all you need is to specify your best mode, select output folder, and then press start. You can also pause with this software, which I think is a different experience to window users. This program creates mp4 video from video calls, and I can create mp3 audio from audio calls. The best thing about this software does not contain spyware or adware in all conditions. It is fee and safe to install in your device without limitations.
It is quite interesting for Windows users to have iFree Skype Recorder. This application is amazing and installs without complications all you need is to authorize the software within Skype. After you are through with authorizing, every time you start a new call, iFree Skype Recorder starts automatically capturing it and saves the call as an mp3 stream to the folder of your choice.
It is also possible with this software to record both sides of the call. To the tech-savvy users, this app seems to favor you since you can adjust the recording mode that is mono and stereo. The best thing about the interface of this software is kept simple and intuitive. With iFree Skype Recorder, you can minimize to the system tray if it is running to avoid disturbance. You can also use this software as answering machine to send a customized message when your status message is set away or busy. Generally, iFree Skype Recorder is an excellent app to provide you with the possibility to save calls for later analysis.
Advantages
Quality sound recording
Easy to download and Install
Disadvantages
Cannot record long recordings
There is burled background voices
It takes a large memory in the CPU

If you have been looking for a better, Skype recorder Evaer is software with excellent design to offer you the possibility. You can capture Skype calls with this app and store them on your computer in HD format if you device has perfect cameras. Ever Skype Video Recorder ensures a comprehensive display of interface, which you can use immediately after installation.
It is simple to use for starters and the first time you run, it does not require a configuration. To start calling you just need to call any name in your contact list and press the record button. If your device has enough storage, you can record calls in different modes such as local Webcam Only, Side By Side or Remote Webcam Only. However, since this application runs in the background, you can set to automatically detect calls and start recording when you start a conversation. The app is modern, and it can even warn the caller that the chat is recorded, which is very important for privacy.
Advantages
Fast to install and download
Protects your privacy well
It's clear and loud
Disadvantages
A lot of ads after installation
The app is large and takes a large memory
Cannot record long conversations
No editing capabilities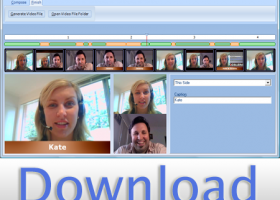 This app installs well without giving you hard time although you can restart your PC to facilitate recording and ensure a smooth process. Vodburner interface is small and does not cause disruption when chatting. The app is well organized, and you can easily locate any function easily. When it comes to capturing a call, the results are awesome and of high quality.
You can also pause recording or stop, which I thinking is quite interesting to all users. It is also incredible you can edit the resulting file through an addition of transition effects, or you can even chop out the uninteresting segment in your recording. It is also possible with Vodburner to enhance the output recording by adding pictures or text. After recording you, favorite call you can save the results to the PC and share it as you wish. All history of recorded calls is saved in Vodburner so you can realize the total amount of space used.
Advantages
It's free to download
Sound quality is good
Easy to set up and launch
Disadvantages
Less services for the free version
Cannot record long conversation
Uses a lot of space in your PC

Callnote makes it easy to for you to record a conversation. This software gives many options like creating your call history and it integrates recording sharing. When working with this application premium is easy. You can configure Callnote to start recording immediately after every new call and notify different participants about the recording. On the other side, chat messages and videos that you have shared through Skype can also be included in every capture. When it comes to managing the app and sharing your recordings, it's easy since the recordings are stored and displayed in the library. The recordings include all details such as a name of the participants and all attached snapshots. Callnote is a reliable call recorder for all users and starters, and it is a good option if you are looking for a simple and pleasant recorder.
Advantages
The software is free to download
It takes less memory
Sound quality is excellent
Disadvantages
The free version does not offer all the services
It makes your PC to hung in the long run
The software cannot record long conversations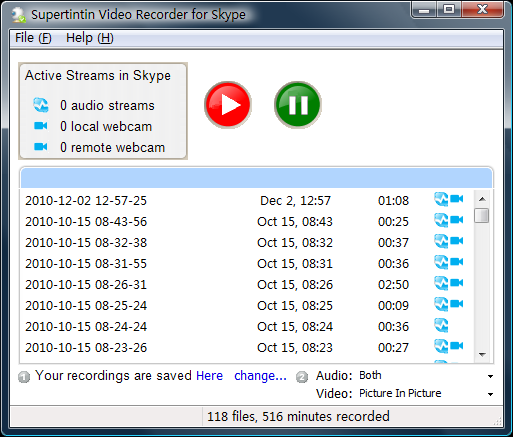 Supertintin Skype Recorder is a lovely lightweight Windows app with excellent design to take you through in all your recording activities. Like other Skype software, this app gives the possibility of recording Skype calls and you can play and stop recording sessions. It is also to note this app allows you to run at Windows startup, enable recording mode automatic and you can still record the microphones or speakers. The most pleasant thing about this software, it can be hidden when recording your calls. It means you can navigate on others activities like watching videos. It is an app without many configurations and can be used by starters and less experienced users.
Advantages
Fast to download and easy to install
The software is available for free
Disadvantages
Cannot do long conversations
No whistles or sounds when starting or stopping
Takes very large memory in your PC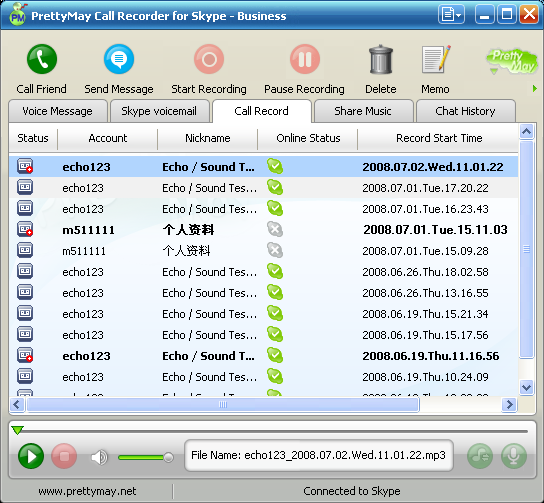 PrettyMay Call Recorder is one of the powerful software, which will make you receive quality voice messages. The app is also capable of recording conversations and save them as WAV files or MP3. It is a mysterious application, which can automatically send texts messages even in your absence and also exports voice messages. To the unregistered users, you can only record with this app for 15 minutes. So you need to register for to avoid limitations.
Advantages
Easy to download and install
It's available for free
Disadvantages
It cannot edit your recordings
It can only record for 15 minutes
The premium version costs a lot of money

This application is a lightweight and a software solution to help you in capturing all your Skype conversations. When you compare with other Skype software, CallGraph Skype Recorder is somehow different. You need not only Skype to be installed in your device, but also to authorize the app on it.
It is easy to accomplish the process all you need is to access tools menu and select options. CallGraph is nice software and allows you to configure the destination folder for various captured files. For starters, it is simple to use this app you only need to make a call then select the start recording option. CallGraph is easy to use with good design to allow you in capturing all your Skype calls, save them as WAV or MP3 to listen afterward.
Advantages
It is simple to operate
It is lightweight
Disadvantages
It's hard to launch and set up
It only records for few minutes
Conclusion
It is a privilege to all Window users to have this modern software. They are excellent compatible and easy to use without complications. However as you can see, Talkhelper recorder is the only software that can do much as far as Skype recording is concerned. As we are living in a new Era where everyone wants to communicate across the world, it is the right time to install you favorite Skype app. You will not only communicate with your friends but also enjoy impressive features offered by these applications.
See Also: